It's has been a busy few weeks. Lots of good and a little bad. I thought I would just check in with all the crazy. Give some personal updates as well as some book news.
First and of course foremost, Devour is out! Yes, readers have been chomping at the bit to finally get their hands on Ian's book and we are happy to deliver it. Ian's story ties up the four-book long story arc that we were creating. We're grateful to all the readers who've stuck with us through the series. (See! We were headed somewhere very specific.) Rinda and I have had so much fun writing this series and falling in love with the various characters right along with you.
If you've enjoyed the book, there are two things that you can do to help us.
Leave a review either on the site where you bought the book or on Goodreads. It doesn't have to be a long review. Just a few quick words to tell other readers what this book meant to you.
Tell a friend. Word of mouth spreads the love of books faster than anything that Rinda or I could do. Shout it on a reader group or just on your own Facebook. Next time your friend is looking for something good to read, remember the Unbreakable Bonds series. Spread the love and that reader will thank you for the find.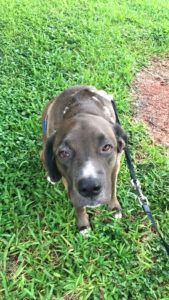 Unfortunately, it's not all good news. My husband and I recently lost our puppy, Max. We discovered that he was born with undersized kidneys and he suffered acute renal failure from which he could not recover.
He was the sweetest, smartest dog I have ever known. Everyone who was lucky enough to meet him fell in love. He lived in Kentucky, Wisconsin, and Florida. He loved car rides, laying in the sun, fortune cookies, and snuggling. Max was with me to work on roughly 10 books over less than five years and working on another book without beside me has been tough.
A day doesn't go by when we don't think of him. We've begun the process of finding another rescue dog to welcome into our family, but the question in the back of our minds is always whether this dog would have gotten along with Max.
But I've had friends who have helped to lift my spirits. In fact, I recently enjoyed an outing of wine and painting with a group of friends. We are all big fans of Beauty and the Beast so we couldn't pass up an opportunity to paint the infamous rose.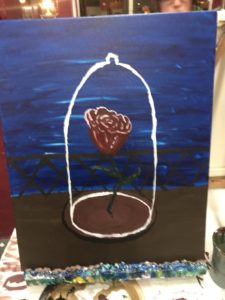 This is the first time I did a wine and painting event. The first lesson that I learned was that multiple glasses of wine help get rid of painting nerves. I might not be too bad with a blank page and a keyword, but visual art is definitely not my strong point.
However, that being said, I don't think my first attempt at wine and painting turned out too bad. I am looking to get the group to head back for another wine and painting event soon. I've got a home office that I'm determined to decorate with art that I create. Maybe I'll also purchase some art supplies from Home Depot with some discount coupons that I can apparently get on websites like Raise (https://www.raise.com/coupons/home-depot), so that I can unleash my imagination on the canvas whenever I feel like!
And since summer is starting here in South Florida, it was definitely time to cut off all my hair. I enjoyed a quick trip to the salon this past week and my hair is mostly gone now. I am ready to tackle the summer heat and get some work done.
Speaking of work, Rinda and I have finished the stories for Unbreakable Stories: Rowe and the collection has been handed off to our editors. Stephen is working on the cover. He's sent us some very promising mock-ups and I'm hopeful that we'll be able to reveal the cover by next week at the latest. The book is slated for release on June 20. Click here if you'd like to pre-order your copy now.
In addition, I've turned in one of the short stories for Ian and Hollis and I know that Rinda is hard at work on others. We'll have the first free short story for Ian and Hollis available a little later this month with another to follow in June. I am hoping that we can have Unbreakable Stories: Ian out by late summer or early fall.
And then…. We are also working on the first book in the spin-off series, Ward Security. In case you missed the announcement at the end of Devour, here is a quick description:
Geoffrey didn't take much in life seriously. He liked hitting the clubs, partying, and laughs. That's why the idea of a stalker seemed so ridiculous. Why would anyone stalk him? But when he gets drugged while out partying with friends and wakes up in his own bed, almost naked, with no memory of who got him home, he realizes that he needs help fast. The only problem is getting someone to believe him. After being blown off by the police, Geoffrey turns to Ward Security.

Sven has been with Ward Security for less than two years. He loves his job, thinks he has a great boss, and enjoys teaching the self-defense classes. But he doesn't want anything to do with the slender young man with sexiest mouth he's ever seen.

However, he's willing to put his own fears and discomfort aside to help protect Geoffrey as they uncover who is threatening his life.
We don't have a release date for this book yet. Right now, all I can say is fall. When we get more of the book done, we should be able to fine-tune the date. Rinda and I will have more updates soon.