And they lived happily ever after…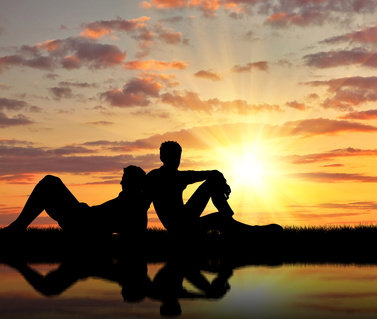 This is what every romance reader wants to believe when we get to the end of a romance. The whole point to loving romance novels is the experience we have watching the characters get to that place–that happy, joy-filled sunset. And in getting there, things can be rocky. Jocelynn and I get a bit of flack for some of the things we do to our characters. We put them through rough times.
But, if you think about it, doesn't that make their happily ever after even sweeter?
We are hard on the boys, though. We know it. It's one of the reasons we are going to continue the story compilations even though they come out of order. Who doesn't want more smexy, sweet, loving time??? But we've beaten several characters, psychologically tortured an already trouble surgeon, killed one man's love, given one a seriously rough past… We are way harder on the men than we are the women, by the way, but that's a post for another time. We love our feminine characters too. I'll even give you a  teaser of Devour—Gidget kicks ass in it.
I'm not normally a fan of the push and pull/back and forth types of romances, but with Rowe, it was necessary and if his new love interest hadn't been someone he already loved, it wouldn't have worked. But having Rowe just fall "back" into love during what he was going through wouldn't have been realistic. Staying true to characters and story can sometimes require a rougher plot.
Jocelynn and I love big books. We came into this series together because we both adore MM romance and we wanted to just go all out and give this series our all. We wanted hot sex and suspense and romance and we knew that not every story was going to appeal to every reader. These four men in our Unbreakable Bonds series love each other more than a lot of families do, but they are all very different men with different love stories. So each book can't be the same.
Writing feeds my soul, so I always remind myself of something my critique partner, Rachel Vincent, said to me. We write for the readers who love our books. This keeps me going.
Jocelynn and I have found that we love working together. We do plan to write solo books again because this is our career and we have to do what's needed for our families, but we also plan to write more books together. One series we have planned will even be more romance focused and less suspense. I think we'll be making an announcement on that series very soon, in fact. 😉
But we want to thank all of you still on the Unbreakable Bonds ride. We are truly writing something we love and it's absolutely wonderful that we have some fun readers on the trip with us!