Before I had the nerve to pitch the series idea to Rinda, there was Lucas. I'd even written a few chapters, churning out several thousand words as easily as drawing a breath. There was always Lucas — confident, overprotective, and hurting in ways that he wasn't willing to admit even to his closest friends.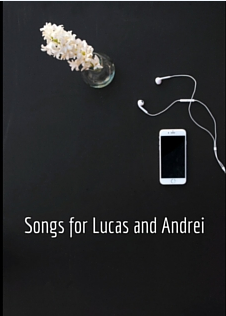 And for Lucas… there was always Andrei.
A promise of something he didn't expect to ever find for himself.
When I started working on Devour with Rinda, it was always playing in the back of my mind that it could be the last time that I ever write a scene from either Lucas or Andrei's point of view. It might be the last time we get that close look at their relationship, their tumultuous love affair, their stumbling attempts at finding a middle ground.
Before starting that first Lucas chapter for Devour, I created a special playlist for him and Andrei. Some of the songs helped me through Shiver as well as the other books of the Unbreakable Bonds series, while some are unique to Lucas.
Are you ready to see the songs that were driving the words to the page?
Lucas & Andrei's Playlist
Hurt by Nine Inch Nails
Hate Me by Blue October
Raining in Baltimore by Counting Crows
Right Where It Belongs by Nine Inch Nails
Say Something by A Great Big World
Just Give Me a Reason by P!nk
Hold on to Me (Cause I'm A Little Unsteady) by X Ambassadors
All of Me by John Legend
Yeah, some of this is brutal, but they had to go through some dark times at the end of Torch before finding their way back to each other.
And you don't want to miss how their story ends…
Be sure that you've pre-ordered your copy of Devour. The book will be out on Friday, April 28.