Happy Release Day for Blaze!
We are excited to announce that it is release day for Blaze, Unbreakable Bonds 5. The book follows the adventure that threatens to derail Lucas and Andrei's wedding.
If you've not caught what this book is about, here is a quick description:
The rings have been selected.

The champagne placed on ice.

The cake decorated.

And the pre-wedding sex is off the charts…

Lucas Vallois and Andrei Hadeon are finally ready to walk down the aisle. There's just one small problem.

A ghost from Lucas's past shows up days before the wedding, desperate for help. Against his better judgement, Lucas and his best friend, Ashton Frost, plan a fast trip back to the one place they swore they'd never go: their hometown in Oklahoma. But the danger is worse than they expected.

Now, they're in a race to track down a killer, keep a young girl safe, and get Lucas back in time to say, "I do."
Are you ready to go on another adventure with the Unbreakable Boys?
If so, you can buy your copy by clicking here. The book is also available on Kindle Unlimited.
If you are just starting the Unbreakable Bonds series, you can see the official reading order here.
Looking ahead, we are still waiting for Amazon to list the audio book for Psycho Romeo, book 1 of the Ward Security series. It should be available within the next few days if not sooner. Keep watching for it!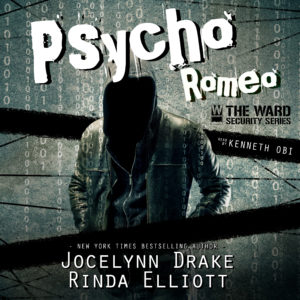 In addition, we announced at the end of Blaze and in our newsletter what our next projects are.
Ward Security #4
We are hard at work plotting and writing the fourth installment of the Ward Security series. This time, they are peeling away the secrets of Dominic Walsh and helping him to win the heart of Abe Stephens.
The book will be available in late summer/early fall.
To catch up on all the action in the Ward Security series, be sure
to check out:
Unbreakable Bonds #6
This winter, we are shifting gears to climb back into the Unbreakable Bonds world with a new adventure with Ashton "Snow" Frost and the love of his life, Jude Torres.
Don't worry. Snow and Jude are still finding trouble, and their love for each other has only gotten hotter.
The book will be available this winter.
Don't miss any of our announcements. Sign up for our newsletter here. You can also join our exclusive Facebook Group, Unbreakable Readers.
Happy reading!