I gotta admit that it feels like forever since we released a book and even longer since we checked in with the Ward Security crew. It's been a busy year of books and travel and just a lot of fun stuff.
But Rinda and I aren't neglecting our boys.
We are happy to announced that on Friday, September 28, you will get to see our playful Dominic Walsh finally meet his match in Abe Stephens with Sadistic Sherlock.
We're excited for you to head on this adventure with the Ward Security crew.
Here's a quick description of the book:
Ten years ago, Dominic Walsh faked his own death. With no true identity, it wasn't hard. But if he'd stayed, he would have been drawn further into a life he'd never chosen. He has friends and family at Ward Security now and has managed to escape his dark past. There is only one thing he truly wants.

Abraham Stephens.

When Dom was first tasked with watching over his friend's father, he didn't expect to fall so hard for the gorgeous silver fox. But Abe is interested in friendship only. He's at a point in his life where he wants something permanent, not a romp with the sexy redhead who happens to be the same age as his son.

But Abe finds himself drawn deeper into Dom's life when cryptic messages start appearing—ones that frighten the skilled security specialist. The more Dom tries to hide what's happening, the more Abe wants to help him.

And maybe, just maybe, he'll find a way to trust the strength of the bond Dom understood from the start.
As with our other Ward Security books, we had some literary inspiration.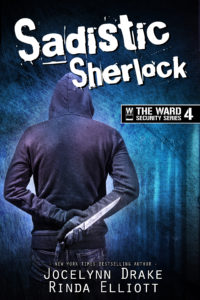 With Psycho Romeo, we turned to William Shakespeare for Romeo and Juliet.
For Dantès Unglued, it was Edmond Dantès of The Count of Monte Cristo by Alexander Dumas.
For Deadly Dorian, it was The Portrait of Dorian Grey by Oscar Wilde.
And yes, Sadistic Sherlock turns to the most brilliant detective of all time, Sherlock Holmes by Sir Arthur Conan Doyle. If you happen to be a big fan of Sherlock Holmes, you will find a number of Easter Eggs hidden within the text.
If you haven't pre-ordered your copy of Sadistic Sherlock yet, don't wait! Don't miss a second of this story!  Click here to pre-order now.
You can also sign up here for our newsletter so you stay up to date on all the book we have coming out.