I love release day! Don't you? New books. New characters. New adventures. New romance. And today we are celebrating the release of SADISTIC SHERLOCK, the fourth book of the Ward Security series.
If you've not checked out this fast-paced book yet, here's a quick description: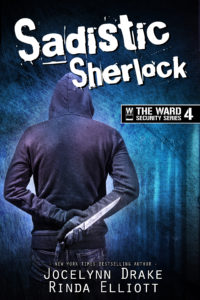 Ten years ago, Dominic Walsh faked his own death. With no true identity, it wasn't hard. But if he'd stayed, he would have been drawn further into a life he'd never chosen. He has friends and family at Ward Security now and has managed to escape his dark past. There is only one thing he truly wants.
Abraham Stephens.
When Dom was first tasked with watching over his friend's father, he didn't expect to fall so hard for the gorgeous silver fox. But Abe is interested in friendship only. He's at a point in his life where he wants something permanent, not a romp with the sexy redhead who happens to be the same age as his son.
But Abe finds himself drawn deeper into Dom's life when cryptic messages start appearing—ones that frighten the skilled security specialist. The more Dom tries to hide what's happening, the more Abe wants to help him.
And maybe, just maybe, he'll find a way to trust the strength of the bond Dom understood from the start.
Dominic made his first substantial appearance in PSYCHO ROMEO, while Abe made his first appearance in DANTES UNGLUED. It's time for them to finally have their happily ever after.
You can click here to get your copy now.
If you're just starting your adventure with the Ward Security crew, the reading order for Ward Security is:
We hope you enjoy this check in with the Ward Security team. Happy reading!