It's been an incredibly busy year and I'm planning for an equally busy 2019.
But to close out 2018, I thought I'd kick off a new series with a bang!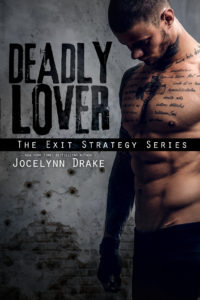 You see, Rinda and I both got our start writing solo books. I started over in urban fantasy with the Dark Days series and the Asylum Tales. I've always loved books with lots of action, a nice dash of violence, and a healthy helping of chaos.
Of course, I generally carry that love into the books I write with Rinda.
But I had a little spare time in between projects this year, so I was able to finally finish the first book in my Exit Strategy series with Justin and Gabriel.
Both men are mercenaries for hire who prefer to work alone. Not surprisingly, trust isn't easy to find in their line of work, but when a well-paying job comes their way, they decide to work together to get it done. And of course, chaos ensues.
I actually started working on DEADLY LOVER nearly three years ago, but it was something that I could only tinker with here and there due to my dayjob and the books I was working on with Rinda. However, when I finally saw an opening in 2018, I had to take it.
And I'm so glad that I did. I loved working with Justin and Gabriel (or G. Love as Justin prefers to call him). The two men are like night and day, but they manage to perfectly complement each other in the most interesting ways.
Here is a quick description of the book:
Justin Mallory has years of bad decisions to make up for, starting with agreeing to join the CIA after being recruited out of the Marines. Now he chooses the jobs and he works alone. It's safer that way, and he can make sure the good guy always wins.

But this job…he can't do alone. Two pharmaceutical researchers are dead and a dangerous drug is on the cusp of winning FDA approval if he doesn't track down the culprit behind the lies and murders.

Gabriel Prescott is a well-trained, efficient, and cold-blooded killer. After a brutal betrayal left his lover dead, Gabriel is out only for himself. But when this lucrative contract lands in his lap, he can't pass it up. Even if it means working with the unpredictable and insane Justin Mallory.

Dodging bullets and secret meetings find them depending on each other. And one hot, frantic night together leads to a hidden sweetness…and questions of whether they could possibly have something more.
Deadly Lover Freshly Edited
Now, if you happen to look at the reviews, you will find several complaints regarding the editing of the book. That was my fault. I poorly timed the release around the GRL conference and the edits were not completed in time for release.
But I am happy to report that in the first week of November, a revised and properly edited version was uploaded to Amazon. This version was also used to make the print edition. The book is clean now if you pick it up.
Also, as a way of making amends to readers who suffered through the rough original version, I am working on a free short story/novella for Justin and Gabriel. I am hoping to have it completed in December.
In the meantime, you can pick up your copy here. I hope you enjoy Justin and Gabriel in Deadly Lover. They will be back in their second book in early 2019.
And don't miss out on Rinda's new solo series, Thick as Thieves. You can read about all the details here.
You can also sign up for our newsletter to stay current with all our books.
Happy reading!