Did you know I had a new solo book out? It's also I KU! Remote Access is the first in my new Thick as Thieves series about reformed thieves. I got the idea for the series years ago after binge-watching the show Leverage. I adored the interaction between the group of reformed thieves who made their own family and wanted to do something similar. Made families will always be one of my favorite romance tropes. You'll see it a lot in everything I write, including the work I do with co-author, Jocelynn Drake.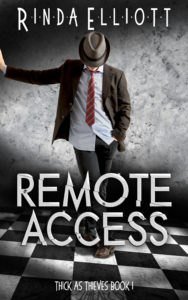 Blackmail turned Lane Becker into a thief at the age of fourteen. 
After ten miserable years, he's finally free. To make reparation for his crimes, Lane plans to steal back a priceless Metropolis poster and return it to its rightful owner. But to find it, he has to break into the home of Hayrick Letsen, the man who turned his life into a living nightmare. The last thing Lane expects to encounter is Letsen's nosy but crazy-hot security guard.
Quincy Holt's life has been ruined. He's infamous in Oklahoma as a cop on the take, but what no one knows is that he was unofficially undercover, trying to get the goods on Letsen — the most wanted fence in the business. When that failed, he was left with no other option but to take a job as Letsen's security guard.
Lane and Quincy are on the run from their mutual enemy while trying to right past wrongs. Neither expected a thief and a cop to have the kind of wild, off-the-charts chemistry that could very well end up breaking their hearts.
Here are a few quotes from reviews!
"Slick, Smart and super sexy!"
"What a Ride!!!!"
"Fun and hot start to a great New series."
"Just a well rounded book!!!"
You can order your copy here!