The Masters of Mayhem are back!
And they are ready to cause more chaos and insanity than ever before?
Of course, the question now is whether their relationship can survive a blast from Noah's past.
Rinda and I are excited to announce that the next book we are releasing is IGNITE, book 7 of the Unbreakable Bonds series. We watched as each of the Unbreakable Boys fell in love. Now we are revisiting them as they struggle to figure out what they want and need out of their relationships.
It's not an easy path.
Here's a quick description of our next book:
Two of Noah's Army buddies are dead.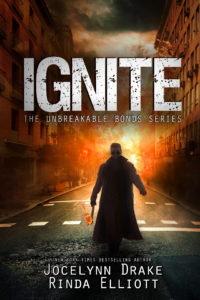 Someone has taken shots at Noah. 
And now Noah's former lover, JB, is a target.
Noah, Rowe, and JB team up to track down a killer trying to take out all of Noah's old Army team in hopes of covering up a dark secret. 
But this trip to Washington, D.C. threatens to unravel the perfect life that Rowe and Noah have built over the past three years. JB's arrival in their lives have Rowe and Noah wondering if they want the same thing for their happily ever after. 
Rowe is sure of one thing—nobody threatens his man. And he sets out to show anyone with a hidden agenda what a bad decision that was.
You can pre-order IGNITE now. The book will be out on July 26.
As you get ready for this new book, you can read all about Rowe and Noah in TORCH (ebook and audiobook) and UNBREAKABLE STORIES: ROWE.
We can't wait to share this brand new adventure with you. Grab your duct tape, a stiff drink, and maybe a couple of tissues. The boys are ready for some more fun!
Happy reading!