With Unbreakable Bonds and Ward Security, we have a lot of characters in dangerous situations. They are running around with the world exploding around them. And somehow they all manage to find love amidst the chaos.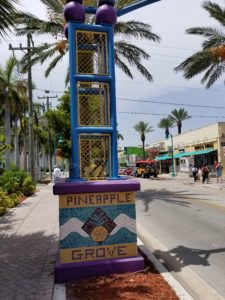 When it came to Pineapple Grove, Rinda and I decided to put aside the flying bullets, car chases, and explosions. (Well, we kept the explosive bedroom scenes.) We wanted to give characters a chance to enjoy some sun, surf, and a little romantic fun in a perpetually summery setting.
Pineapple Grove is actually based on an artists' district down in Delray Beach, Florida. I've been living in South Florida for five years and working in Delray for the same amount of time. I've wandered around the neighborhood and into the various shops and restaurants during that time. I've watched the snowbirds come and go. I've brunched, partied, and enjoyed the festivals that pop up at random times.
And it seemed like the perfect place to set a new series.
In December we launched the first book of the series, SOMETHING ABOUT JACE. If you've not read it yet, here is the book description: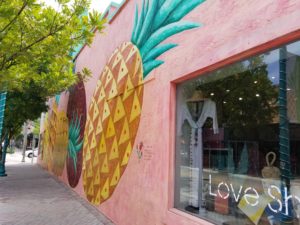 Gallery owner Jace Townsend loves his tiny hometown of Pineapple Grove, deep in South Florida. His life is filled with sunshine, blue skies, jogging on the beach with his dog, and the greatest friends a guy could want. What more could he ask for?
Love would be a great start. After his last relationship fell apart, Jace has begun to wonder if he's ever going to find someone who would fit into his quiet life.
Of course, the last person who would fit into his life is a major movie star.
Trent Elrige is drowning. He's constantly on the go from one movie obligation to the next. And after the last stalker got a little too close for comfort, Trent decides it's time to take a step back and figure out what he's doing with his life.
Pineapple Grove seemed the perfect spot to hide for six months and figure out his future. He just wasn't expecting to be tackled by love so quickly.
But now that he's found Jace, is he willing to risk everything he's worked so hard for? And is Jace willing to walk away from his precious Pineapple Grove to be with Trent?
To add to the Pineapple Grove fun, we also released a novella called Drew & Mr. Grumpy. This novella is free for a limited time.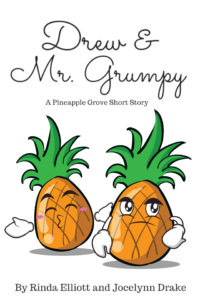 Drew Hopkins has had his eye on chef, Carson Mills, since he took the job at Wilton Cottage Bed & Breakfast. He's always finding reasons to visit the kitchen to flirt with the sexy big guy, hoping to catch his interest.
Carson wants nothing to do with the tempting front desk manager even if Drew is cute as hell. He tried romance with a coworker, and it cost him everything.
When Drew's flirting finally gets to him, the grumpy chef snaps and says something he truly regrets.
Hurt, Drew withdraws completely, and it doesn't take Carson long to realize he'd been more tempted than even he knew.
And later in 2019, we will be launching the second full-length novel in the series, All About Wesley. The story will follow bed & breakfast owner Wesley as he battles a hotel magnate out for his property.