We are now just one month away from the release of Torch, which focuses on Rowe and Noah. I thought it was time to revisit Rowe. We did a background on Rowe once before, which focused on this life prior to the events of Shiver, the start of the Unbreakable Bonds series. But things have changed for Rowe…
Actually, I'm going to stop right here for a second because big spoilers are coming. Have you read Shatter? No?  Okay, I'm going to need you to take a step back and read Shiver, then Unbreakable Stories: Lucas, and then Shatter…  Don't worry. I'll wait.
Okay… you're all caught up now.  Deep breath…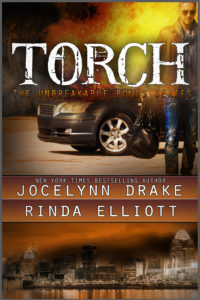 Yeah, Melissa. That was bad. Rinda and I fell in love with that woman the first time she stepped onto the page. I can still see her gently holding Lucas's face while standing in his penthouse, asking who in the world would want to fuck him now that he's all beat up… She never held anything back and she loved Rowe and the rest of the group with a fierceness that couldn't be beat.
But bad things happen to good people in books.
While you can read about early Rowe here, I thought I'd pop back in to talk about the Rowe of now. You can't lose someone that you love with your every breath and thought and not be changed by it.
Nine months have passed since Melissa's untimely death and Rowe is … functioning. He's learning to simply be again. To exist. To smile. To not let the pain consume him. Some days he does well. Some days he doesn't do so well.
It goes without saying that Lucas, Snow, and the rest of the boys are extremely worried about him. They are trying to give him the space he needs to get back on his feet again, but they are also trying to keep him active and engaged. They don't want to lose another critical member of their family.
In many ways, Rowe at the start of Torch is lost. He's lost his drive. He's lost his energy. He's lost his joy. He's little more than a leaf carried along by the wind. He will always be there to love and protect his friends, but when the danger isn't bearing down on them, he doesn't know what to do with himself.
And that's where Noah comes in….
Ahh… I'm not going to give all the good details on the lovely Noah just yet. I'll just say that Noah is someone from Rowe's army years.
Noah helps Rowe find himself again. To find his heart and the fire that once sparked in his green eyes.
But that's not to say that they have an easy road ahead of them. How do you get your heart to work again when you're sure you've buried it in the ground? And if you can risk loving, can you ever forgive yourself for loving another?
Don't miss out on a second of Rowe and Noah. You can pre-order Torch here.