We have a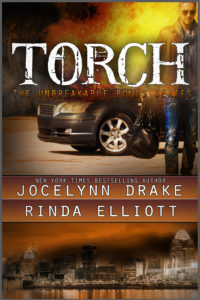 new book out today! Torch is book #3 in our Unbreakable Bonds series. This is Rowe and Noah's story and I'll admit, we cried some during the writing of it. But we also laughed and smiled and felt our heart pumping like crazy. We hope you feel all the same.
It's available pretty much everywhere today and then tomorrow. Links below.
Gay Book Reviews has an exclusive excerpt up today and they peppered it with some wonderful quotes from their reviews! Here are those and few others that have already started trickling in.
"To say I was excited about Rowe's book is an understatement but seriously you guys…SERIOUSLY, I didn't expect to love it this much. It's hands down my favorite book of the series." From Author Riley Hart
"This is another great book in this series and it looks like Ian's story is gonna be glorious!" Gigi from Gay Book Reviews.
"Torch is a beautifully and masterfully crafted story which will take you on a journey guaranteed to give you an unforgettable ride and leave you breathless." Parvathy from Gay Book Reviews
"Once again, Drake and Elliot bring us an captivating and engrossing story with likable characters, scorching hot sex, and exhilarating suspense." Belen from Gay Book Reviews
You can order your copy of Torch at Amazon, Barnes & Noble Nook, Apple's iBooks, All Romance Ebooks, and on Kobo.
Hope you guys love our Rowe and Noah!